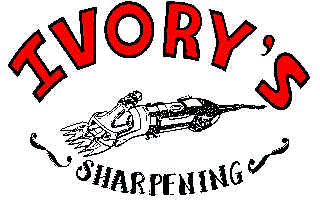 - Since 1975 -
1-760-244-2823
---
Beauty and Barber Supplies
Gabels
Fromm
Manicure Products
---
Clippers
Heavy Duty Clippers
Clipper Blades
To fit all major clipper brands. Complete assortment of sizes.
Cord Detangler
The Cord Detangler is a device to help keep the tangles out of
your clipper, blow dryer, and your curling iron cords. Click on
the link above for a pictures and pricing.
Shears
Sales and Repairs
Sharpening Service

CREDIT CARD ORDERS: We will need your name, phone number [Home and / or work]
Card number, expiration date, and home mailing address for a Credit Card Match
and CVV verification. Cards are cleared through a Master Clearing Center.

1-760-244-2823
Prices are subject to change without notice
For A Custom Price Quote, Please E-Mail Us At
ivrys@aol.com

Hesperia California
---
[DOG GROOMING SUPPLIES] [BEAUTY & BARBER SUPPLIES] [LARGE ANIMAL EQUIPMENT] [LARGE ANIMAL CLIPPERS] [PRO. CLIPPERS & BLADES] [HOME]
[SHEEP SHEARING HAND SHEARS] [BUTCHERING EQUIP & SUPPLIES]
[SHEEP EQUIPMENT]
send mail to ivrys@aol.com with questions or comments about this web site.
Last modified: June 05, 2009 .