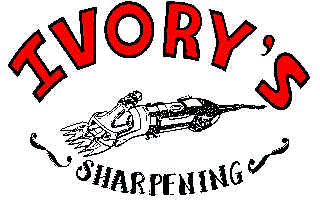 - Since 1975 -
1-760-244-2823
---
Large Animal Equipment
Sharpening
$2.00 Per Blade (83au-84au-Lister & Heiniger Combs-Cutters)
Clipper Blades $5.50 Per Set / Scissors $10.00 All Types
Wool Combs & Cutters $2.00 Per Blade
Knives $3.00 Ea.
[Please clean all blades before sending ($.50 Charge accessed to all dirty blades)


Prices are subject to change without notice.
CREDIT CARD ORDERS: We will need your name, phone number [Home and / or work]
Card number, expiration date, and home mailing address for a Credit Card Match
and CVV verification. Cards are cleared through a Master Clearing Center.

1-760-244-2823
For A Custom Price Quote, Please E-Mail Us At
---
[DOG GROOMING SUPPLIES] [BEAUTY & BARBER SUPPLIES] [LARGE ANIMAL EQUIPMENT] [LARGE ANIMAL CLIPPERS] [PRO. CLIPPERS & BLADES] [HOME]
[SHEEP SHEARING HAND SHEARS] [BUTCHERING EQUIP & SUPPLIES]
[SHEEP EQUIPMENT]
send mail to ivrys@aol.com with questions or comments about this web site.
Last modified: September 12, 2009 .