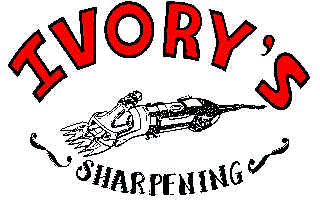 - Since 1975 -
1-760-244-2823
---
Andis - Wahl - Oster

Beauty and Barber Professional
Clippers and Blades
Mfg.
Item #
Description

Price

Blades

Price

Andis

# 22310 # 22315

Excel or Excel -2 Speed

64074/000

Andis
1557 ML
Improve Master

#22 -# 28 1556/1513

Andis
26712
Styliner SL II

26704

Andis
15515
Edger AEE
15528-T
15530
Edger AE
15506
Andis
04710
T-Outliner GTO w/ "T" blade
4521-"T" blade
Andis
04603
Outliner II GO w/ square blade

4604

Andis
32575
Edger II-D3 Rechargeable
29272
Andis
26611
Beauty Master


Wahl Professional Blades

Andis
64550
BGR Rechargeable
Andis
BG2 Speed w/3/0
Andis
BG2 Gold Blade w/4/0
Andis
26712
Styliner II (Shave&Trim)


Wahl Professional Clippers
Mfg.
Model
Description

Price

Item #

Size
Description

Price

Wahl
8685
Peanut w/attach. comb
1045
-
Homeline Precision
Wahl
8040
AC trimmer
1037
-
Clip Pet 20-15-10
Klipper Vacuum Parts
1086
-
Cordless Trimmer "Course"
Wahl
8500
Senior
1046
-
Cordless Trimmer "Fine"
Wahl
8355-100
Designer
1006
-
Designer Taper
Wahl
8400
Super taper
1062
-
Shaver/Trimmer
Shaper "wide"
Wahl
8900
Cordless Black
1005
-
Senior Adjust
Lock
Wahl
9298
Recon. Clipper
2068-300
-
Peanut Blade
Wahl
8900-500
Cordless Gray
2070-300
-
Peanut Texture
Wahl
8110
Balding Clipper
2068-200
-
Royal Blade
2071-300
-
Sculpturing
Blade
1044-5000
-
T-Trimmer
Mfg.
Model
Description

Price

1026-001
-
0000/Close Blade 3-Hole
Oster
76-01
W/ooo&1 Blade 76
2105
00000/ Balding Blade

Oster

111-04
w/ooo &1 Blade
Oster
111-16
Turbo
W/#1 Blade
Oster
197-01
Pro. Cordless
Oster
59-01
Finisher Trimmer
Oster
179-01
Pro. Cordless Clipper
Oster
23-51
Fast Feed Adjust Blade
Oster
59-03
Finish Trimmer
Oster Professional Clipper Blades Andis Professional Clipper Blades

Mod.# 10 & 111 Turbo take 911 blades Series 80

Item #

Size

Price

Mod.# 76 & 89 take 918 blades Series 70

64160

Trimmer

64185

00000

Item #

Size

Price

64074
0000
911-04
00000
64073
000
918-04
00000
911-01
918-01
0000
64070
1

911-02
918-02

000
64077
1 1/2
911-05
918-05
OA
64078
2
911-08
918-08
1
64089
3 1/2
911-10
918-10
18
64080
#7
911-07
918-07
1A
64079
#5
911-11
918-11

1 1/2

46090
#4
911-12
918-12
2

64150

#T-24

911-14
918-14
3 1/2
21641
#T-84
911-30
918-30
Lacing
ML Fade Blade
1591
Clipper Blades:
1.Oster
2.Wahl
3.Andis
We have blades in all sizes and types to fit the above clippers. Please call
on the type and size. Thank you. Ivory's
Heavy Duty Clippers
Model #76
Andis BG
Oster Turbo 111
Outliners

Oster

Wahl

Battery Operated & Rechargeable

Edjers
Sharpening Service
Shears $10.00
Clipper Blades $5.50

83-AU & 84-AU are $2.00 EA.


Prices are subject to change without notice
CREDIT CARD ORDERS: We will need your name, phone number [Home and / or work]
Card number, expiration date, and home mailing address for a Credit Card Match
and CVV verification. Cards are cleared through a Master Clearing Center.

1-760-244-2823
For A Custom Price Quote, Please E-Mail Us At
---
[DOG GROOMING SUPPLIES] [BEAUTY & BARBER SUPPLIES] [LARGE ANIMAL EQUIPMENT] [LARGE ANIMAL CLIPPERS] [PRO. CLIPPERS & BLADES] [HOME]
[SHEEP SHEARING HAND SHEARS] [BUTCHERING EQUIP & SUPPLIES]
[SHEEP EQUIPMENT]
send mail to ivrys@aol.com with questions or comments about this web site.
Last modified: March 29, 2012 .