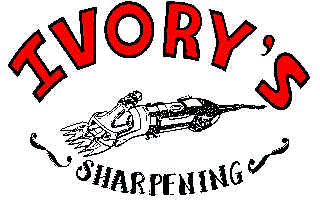 - Since 1975 -
1-760-244-2823
---
Sunbeam - Oster- Wahl Double K
Large Animal Clippers
Horse Clippers Cattle Clippers
Clipmaster
Cat.#
Price

Heavy - Duty Variable Speed Clipper - Complete with clipping head, set of blades [ 83AU & 84AU ] & a handy Carrying Case

#1500-2 Variable Speed

Heavy - Duty Single Speed Clipper - Complete with clipping head, set of blades [ 83AU & 84AU ] & a handy Carrying Case.

#1510-2 Single Speed

Clipmaster -Head - Complete with a set of blades [ 83AU & 84AU ]

#1505-01 Head
Large Animal Clippers By

Groomer Edge Power Clippers
Description

Model #

Price

Belt MT Clipper

401 BMC
Variable Speed

401-V.S.

401P-5Ft. v.s.

401P-7Ft. v.s.
401P-10Ft. v.s.
401P-12Ft. v.s.
401P-15Ft. v.s.
401P-20Ft. v.s.

Hoof Sander fits
on all 501or 401
Power Groomer
flex shafts.
Price does not include sanding disk.



Hoof Polisher 504 HP

Dental, Saw & Grinder will fit
on all 501 or 401
Power Groomer
flex shafts.

Handpiece Dental-561
Does not include dental bits

Handpiece Saw-504-CC
Includes mandrel & blade

Handpiece Grinder-503
Does not include grinding stone
Wahl Horse Clipper

K-M 1

Model # 9754
Sales & Sharpening for:
Sharpening
Click Here for a printable sharpening order form.


Prices are subject to change without notice
CREDIT CARD ORDERS: We will need your name, phone number [Home and / or work]
Card number, expiration date, and home mailing address for a Credit Card Match
and CVV verification. Cards are cleared through a Master Clearing Center.

1-760-244-2823
For A Custom Price Quote, Please E-Mail Us At
---
[DOG GROOMING SUPPLIES] [BEAUTY & BARBER SUPPLIES] [LARGE ANIMAL EQUIPMENT] [LARGE ANIMAL CLIPPERS] [PRO. CLIPPERS & BLADES] [HOME]
[SHEEP SHEARING HAND SHEARS] [BUTCHERING EQUIP & SUPPLIES]
[SHEEP EQUIPMENT]
send mail to ivrys@aol.com with questions or comments about this web site.
Last modified: March 29, 2012 .