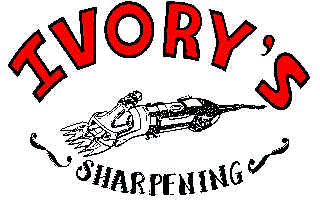 - Since 1975 -
1-760-244-2823
---
Sheep Shearing Hand Shears. These shears are preferred by most showman because of there superior quality of steel. These shears will stay sharper longer than the standard shears because of the top quality of the steel and workmanship used in manufacturing of these Shears.
Red Shank Shears Rigged.
Straight edge double hollow ground. The handle are leather covered with wooden silencer blocks to eliminate the clicking noise.

Sh. wt.

Size

Sh wt. 2 Lbs.

6½"

TUS-3072 Shear
It is preferred by showman because of its superior quality steel

Sh wt. 2 Lbs.

6½"

B.B.N. Blocking Shear
The B&B shears are made in England. They are of excellent quality

Sh wt. 2 Lbs.

5"
6"

TT 3½ Shear
Good for head and leg work. These shears are excellent for the showman with small hands.

Sh. wt. 1 Lbs.

3½"

Left Handed BBN Hand Shear
these shears are of the same top quality as the other Burgeon& Ball shears. These shears are true left handed shears.

Sh wt. 2 Lbs.

6½"

NLA

Red shank Shear
This shear is the same shear as the Red Shank Shear listed above accept they are not rigged with the leather or wood blocks

Sh wt. 2 Lbs.

6½"
Ivory's : - Full beveled hand shears
The bevel is ground back to produce a knife edge. With a very fine knife edge these shears will cut through the wool very easily and stay sharp longer. These shears are a pleasure to use, and make the time spent fitting the animals more enjoyable. This work can be done on any of the above shears. Most showman prefer the Hinds Patent Red Shank shear with a straight edge, to have full beveled.
A note of caution, the edge on this type of shear is very sharp and should be handled with this in mind. With this type of edge it is not recommended to use this shear to do general shearing or removing of tag etc.
Sharpening of this shear
The charge for doing this work on your shear is $22.50 per shear.

Standard Sharpening of hand shears Is $5.00
---

Prices are subject to change to change without notice
CREDIT CARD ORDERS: We will need your name, phone number [Home and / or work]
Card number, expiration date, and home mailing address for a Credit Card Match
and CVV verification. Cards are cleared through a Master Clearing Center.

1-760-244-2823
For A Custom Price Quote, Please E-Mail Us At
---
[DOG GROOMING SUPPLIES] [BEAUTY & BARBER SUPPLIES] [LARGE ANIMAL EQUIPMENT] [LARGE ANIMAL CLIPPERS] [PRO. CLIPPERS & BLADES] [HOME]
[SHEEP SHEARING HAND SHEARS] [BUTCHERING EQUIP & SUPPLIES]
[SHEEP EQUIPMENT]
send mail to ivrys@aol.com with questions or comments about this web site.
Last modified: March 29, 2012 .